DIRECTOR'S MESSAGE
Prof. Dr. J. Jhampati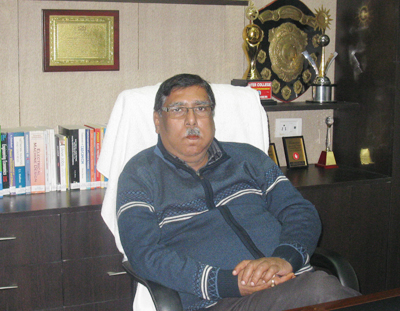 It is a great honor and privilege for me to head this great college, Siliguri Institute of Technology which has been rendering yeoman's service to the nation since 1999 as a part of a Techno India Group, the largest conglomerate and distinguished name in education sector in India with 3 Universities, 21 Engineering colleges, 18 B-Schools, 6 High schools, 40 IT schools, 100 state of the art campuses and many other charitable and philanthropic organizations.
The college takes pride in the team of faculty and staff members who take every effort in mentoring and transforming the budding students into responsible citizens of India with good employability skills and character. We provide them the best academic support through well qualified faculty members, cooperative administration and excellent infrastructure. Our role extends to providing them a lot of activities like cultural fests, sports and games, industrial tours expedition, club activities etc., so that they can discover and excel their hidden talents in areas beyond academics. These are essential ingredients of overall personality development of students which add to their leadership attribute, much needed by corporate employers of today.
We counsel and help the students to achieve success in career and life through hard work, discipline and academic Vis-à-vis communications skills. Our HOD's and faculty members help to achieve the dreams of students and their parents by setting right targets and strategies.
Last but not the least, the natural beauty of the campus is so exhilarating that the students enjoy each and every moment of their stay in the campus. The tranquil and the serene environment provide a platform for the students to connect and bond their technical curiosity and innovations with nature. Perched between Himalayas, tea gardens, Mahananda reserve and forest but not far from a busy and affluent city of Siliguri with all fun, frolics and entertainments, this is the ideal sylvan setting for pursuing serious teaching-learning process.
Prof. Dr. J. Jhampati